When discussing Indian food, you cannot start a discussion without mentioning the most famous Indian sweet of them–Ladoos. These little balls of sweet goodness have serious popularity in the Indian subcontinent, that each region in India has its own version of the Ladoo. What makes the Ladoo so popular is that is so versatile in terms of what ingredients they can use.
One can use different ingredients to make Ladoos, including wheat flour, coconut, dry fruits, Rava, Besan, Malai, Poha, Dates Nut, Dry Fruits, Dates, Mawa, Urad Dal, Gulkand, Moong Dal, etc.
Types of Ladoo:
There are multiple types of Ladoos. Here are some examples:
1)      The Pink Ladoo:
The Pink Ladoo originated in UK to coincide with International Day of the girl child. It is pink and came into existence to bring a sense of gender of equality.
2)      Asthanam Ladoo:
This Ladoo weighs about 750 grams and comprises ghee (clarified butter), cashew, almonds, and saffron. Usually these Ladoos are prepared for politicians and officials.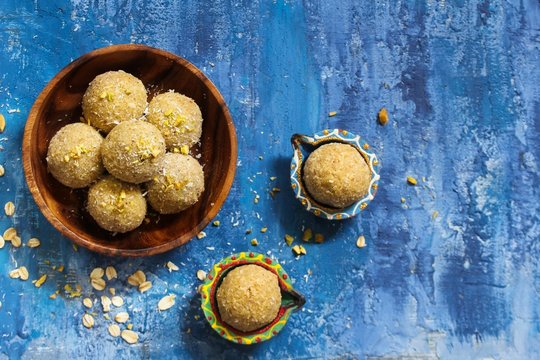 3)      Coconut Ladoo:
An easy-to-make Ladoo that includes the 2 major ingredients of coconut and milk. One can make it within minutes and it does not require any pre-preparation, and one can make it with milk and condensed milk.
4)       Boondi Ladoo:
Bright yellow and a creamy texture. These are 2 major characteristics of the Boondi Ladoo. These are prepared for festivals, and special occasions, and just requires, ghee, gram flour, sugar, soda, some dry fruits, and time and patience.
5)      Malai Ladoo:
Creamy, sweet and a royal vibe. One can tweak the Malai Ladoo in either round or any other shape or form. All you require this gem is fresh milk and paneer, and one can use whipped cream.
6)      Besan Ladoo:
This is a popular type of Ladoo in the North and Western parts of India. Ingredients include chickpea flour, ghee, sugar, and additional powdered spices such as cardamom and nutmeg. Besan Ladoos have almond slivers for that finishing touch.
7)      Chocolate Ladoo
Chocolate Ladoos give us the best of both worlds. Ingredients include dry fruits, such as crushed cashews or pistachio slivers for textural relief.
Uses of Ladoo:
Indians serve sweets for special occasions and Ladoos get served at major events, festivals, and special occasions in India. For many Hindu festivals, Ladoos get served as an offering to God. Events where the Ladoos get served, include Ganesh, Chaturthi, and Diwali.
The sweet also has a special place in prayer rituals and is a popular offering to Gods. At the Tirupati Temple, the richest Hindu temple in India in Tamil Nadu, over 10 crores (100 million) Ladoos sell each year.
Also, these sweets are used for major political events, weddings, engagements parties, major family events, and even just as food to kill hunger. India's major Hindu Temple, the Tirupati Balaji Temple, serves over 10 crores (100 million) Ladoos each year. Now that is a bunch of sweetness to sweeten your life!!
Ladoos are fed to adolescent girls to balance their hormones. The Ladoos with fenugreek seeds were affective in dealing with menstrual cramps.
History/origins of Ladoo:
The famous sweet originated in India. The question is where, when and how did it get prepared. One of the believed theories surrounding the origins of the Ladoo revolve around the ancient Indian physician, Sushruta using Ladoos as antiseptic to treat his patients. From there onwards, Ladoos were used for different and it resulted in what we have today.
Sushruta, who is also known as the Father of surgery in India, wrote the books, Sushruta Samhita or The Compendium of Sushruta. Ladoos are said to have an Ayurvedic origin.
Also, there are claims that the origin of the Ladoo came when Hindu God, Lord Krishna's mother, made an offering, for a Ganesha idol. That offering was similar to the Ladoo that comprises steamed rice flour dumpling stuffed with sugar and coconut shavings.
Also, there are other claims that another Hindu God named Lord Ganesha fed Ladoos, a. k. a., Modaka in the ancient Indian language of Sanskrit.
Sanskrit is one of 3 oldest known languages in the world along with Tamil and Egyptian. The actual origins of this famous sweet will generate continuous debate, but one thing is for sure. I want a Ladoo right now.
https://theculturetrip.com/asia/india/articles/indias-famous-ladoos-were-first-used-as-medicine-heres-how/
https://www.jodilogik.com/wordpress/index.php/the-history-of-laddu-what-you-probably-never-knew/
https://www.thebetterindia.com/234619/ladoo-laddu-india-food-history-trivia-origin-desserts-how-to-recipe-laddoo-gop94/
https://indianexpress.com/article/lifestyle/food-wine/food-story-the-journey-of-ladoo-from-a-medicine-to-the-much-loved-indian-sweet/
https://www.desidakaar.com/different-type-of-ladoos/#:~:text=Description%20of%20Different%20Ladoo%20Recipe.%201%201.%20Coconut,Boondi%20Ladoo%3A%205%205.%20Rava%20Ladoo%3A%20More%20items
https://www.salebhai.com/11-varieties-of-laddu-for-every-foodies-bucket-list