Honor Magic Watch 2's enclosure is made of refined 316L stainless steel – a commonly used material in the aerospace industry – offering high strength to weight ratio and less susceptibility to nicks and scratches from everyday activities.
A Watch Face that's Truly Yours
Personalized Watch Faces
Beyond simply telling time, MagicWatch 2 can display your own personal touch with your photos.
Because you can store multiple photos in it, each time you raise your wrist, a different photo will show up.2
A Smartphone Free Adventure
Dual Satellite Positioning Systems
With Dual Satellite Positioning Systems3, MagicWatch 2 accurately records your speed and route when running, walking, or cycling. An altimeter or an altitude meter will even track your elevation during hikes and climbs.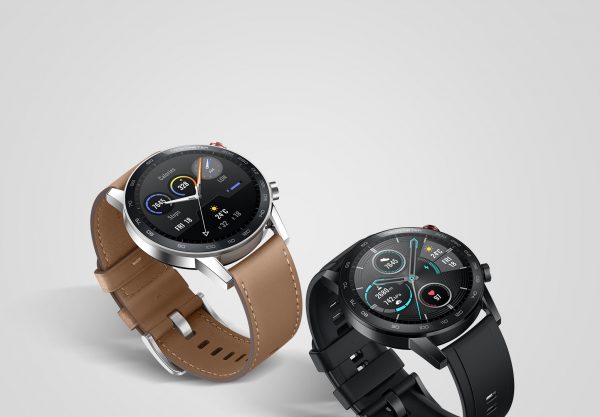 Steel Yourself. Be Brave.
316L Stainless Steel
MagicWatch 2's enclosure is made of refined 316L stainless steel – a commonly used material in the aerospace industry, offering high strength to weight ratio and less susceptibility to nicks and scratches from everyday activities.
A Breakthrough in Battery Performance
for Up to 14 Days1
Get more from your performance 24/7. Powered by the all-new HUAWEI Kirin A1 chipset, MagicWatch 2 processes data faster, using less power for the same results.
Swimming Heart Rate Monitoring5
With 50m water-resistance6 and all-new HUAWEI TruSeen™ 3.5, MagicWatch 2 helps you understand your swim performance better, measuring your heart rate accurately including SWOLF, distance, calories, and speed.
Better Training for Safety
MagicWatch 2 helps you optimize safe training with a variety of data such as VO2Max7 and the effects of anaerobic or aerobic exercise.
Understand the expected outcome of your workouts and know how long you need to recover so your body is primed for the next one.
About this item
⌚1.20 Inch AMOLED Color Screen 1.20Inch AMOLED high-resolution 390*390 pixels display, makes the displayed content more vivid and beautiful. Bigger screen, fit the width of the wrist, bring a pleasant feeling of wearing. The big screen displays a comprehensive and rich information, raise the wrist, efficiency is obvious.

⌚14 Sports Modes & GPS GLONASS Dual Satellite Positioning System Outdoor walking, outdoor running, indoor running, outdoor riding, indoor cycling, swimming pool, open water, triathlon, hiking, climbing, trail running, free training, elliptical machine, rowing machine the GPS GLONASS binary positioning system has been added to accurately record your movement trajectory and tell you the calories burned.

⌚Optical Sensor,TruSeen 3.5 The Honor Magic 2 smart watch uses a new generation of high-precision optical sensors and algorithms for more accurate monitoring and lower power consumption. The all-day heart rate recording function allows you to see your heart rate changes throughout the day, discover abnormalities in time.Stress monitoring, breathing training, sleep monitoring, heart rate abnormality reminder, heart health study, blood oxygenation.

⌚ Long Standby Time It's not easy to increase the length of life on a smart watch with a rich feature set and AMOLED colorful display. But Honor Magic 2 smart watch with ensures aboutDaily use mode: about 14 days;Basic watch mode: about 20 days;GPS continuous working time: about 30 hoursfor a full charging.

⌚More Functions The Honor Magic 2 smartwatche also has the function of , reading WeChat and SMS message,Health Tracker: Heart rate monitor,Pedometer,Sedentary reminder,Sleep monitor , Call reminder,APP Info push,GPS+Glonass,Bluetooth music,Weather,Time,compass,Alarm clock,Find Phone.
Use Your Wrist like a Phone
Built-In Speaker And Microphone
Stay connected with friends, colleagues, and loved ones right on your wrist. The built-in speaker and microphone are ideal for quick chats with seamless switching to your HONOR smartphone if needed.9,10
Cut the Cord with Wireless Sound
Wireless Music Playback
Control music playback of your favorite tunes right from your wrist. Thanks to the MagicWatch 2's 4GB built-in storage, you can instantly connect to your HONOR Sport PRO earphones on the run without needing your HONOR smartphone.11
More Useful Smart Features
Continue to live in the moment. At your convenience, MagicWatch 2 lets you access commonly used smartphone features like checking the weather app, setting the alarm, or starting the stopwatch timer, all without even touching your HONOR smartphone.
Female Cycle Tracker
The all-new Female Cycle Tracker lets you follow your cycle, log periods, record details, and analyse trends at a glance with the Huawei Health app.
The period-tracking calendar also allows you to see your upcoming estimated fertile window and compare all your stats in one place, giving you a better overview of your health.
Your Health Above All Else
MagicWatch 2 allows you to manage everyday stress with HUAWEI TruRelax™,8 calming your mind through a series of breathing exercises within the breathing app. Understand your sleep patterns better with HUAWEI TruSleep™ 2.0 and get personalized insights on how to get a better night's sleep.
Battery data is based on test results in HONOR labs. Actual usage time may vary according to settings and usage preferences.
This feature is not supported on ios.
Dual Satellite Positioning Systems works only with selected outdoor activities.
VoiceOver Guidance available only in English and Mandarin language. Availability may vary depending on regions and markets.
Leather and metal straps are not suitable for swimming. The heart rate during swimming may vary depending on many factors, such as water flow and swimming stroke. The measured data are for reference only.
Water resistance rating of 50m based on the ISO standard 22810:2010, meaning that the watch works when swimming or washing hands, etc. Rinse the band with clean water and dry it promptly after swimming in seawater for prolonged use.
VO2Max works only with selected outdoor activities. This feature is not intended as medical advice. Strictly only for personal use.
HUAWEI TruRelax™ available only on Android devices. iOS devices are not supported.
MagicWatch 2 need to stays connected with your HONOR smartphone via bluetooth to receive and answer calls from MagicWatch 2.
Only MagicWatch 2 46mm comes with built-in speaker and mic.
Availability may vary by regions and requires android smartphones, support HUAWEI Music version 12.11.7.X or above. Music supports mp3 and LC-AAC formats. This feature is not supported on iOS. MagicWatch 2 total internal storage is 4GB. Only 2GB is available for offline music storage.
The availability of SpO2 Monitor varies depending on markets and regions. SpO2 Monitor is not designed to be a medical device, and is not intended to diagnose, treat, cure or prevent any disease. All data and measurements should be used for personal reference only. This feature will come later via OTA.
Statement
1. Data displayed on this product is for reference only and not for medical use.
2. Accessibility of some features may vary across regions. Product pictures and display contents on the foregoing pages are provided for reference only. Actual product features and specifications (including but not limited to appearance, colour, and size), as well as actual display contents (including but not limited to backgrounds, UI, and icons) may vary.
3. All data in the foregoing pages are theoretical values obtained by HONOR internal laboratories through tests carried out under particular conditions. For more information, refer to the aforementioned product details. Actual data may vary owing to differences in individual products, software versions, application conditions, and environmental factors. All data is subject to actual usage.
4. Due to real-time changes involving product batches, production and supply factors, in order to provide accurate product information, specifications, and features, HONOR may make real-time adjustments to text descriptions and images in the foregoing information pages, so that they match the product performance, specifications, indexes, and components of the actual product. Product information is subject to such changes and adjustments without notice.
5. HUAWEI TruSleep supported language list:
Supported Languages:
Simplified Chinese, Amharic, Arabic, Assamese, Danish, German, Greek, English (United Kingdom), English (United States), Spanish (Spain), Spanish (Brazil), Finnish, French, Gujarati, Italian, Japanese, Kannada, Korean, Methili, Maori, Malayalam, Mongolian, Marathi, Malay, Norwegian, Dutch, Oriya, Punjabi, Polish, Portuguese (Brazil), Portuguese (Portugal), Romanian, Russian, Swedish, Swahili, Tamil, Telugu, Thai, Turkish, Vietnamese, Traditional Chinese (HK), Traditional Chinese (Taiwan)